rescue 911 sheet mask
ALL THE BETTER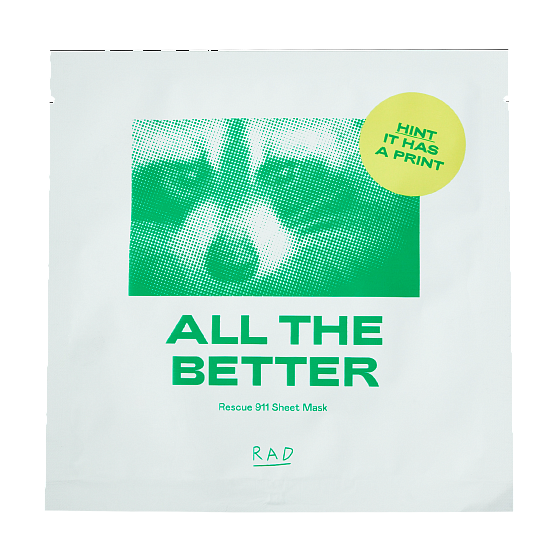 rescue 911 sheet mask
ALL THE BETTER
ALL THE BETTER
Say hello to your clear-skin kingpin. I promise to help your skin problem
worries leave for a land far-far away. For real, actually.

This mask has superpowered Apple and Java Tea extracts to balance your
skin, slash sebum production and reduce pore size. Oh, and it smells like lemonade.

After laying the mask over your face, meditate on how beautiful you are
and remove-it-move-it after 10 to 20 minutes. But don't rush. Let your skin take the remaining juices in.
Water, Glycerin, Methylpropanediol, Butylene Glycol, Hydroxyacetophenone, Carbomer, Tromethamine, Allantoin, Caffeine, Polyglyceryl-10 Laurate, Propanediol, Caprylyl Glycol, Ethylhexylglycerin, Xanthan Gum, 1,2-Hexanediol, Pentylene Glycol, Disodium EDTA, Panthenol, Acetyl Glucosamine, Cynanchum Atratum Extract, Sodium Hyaluronate, Limonene, Fragrance (Parfum), Althaea Rosea Flower Extract, Sodium Hyaluronate Crosspolymer, Maltodextrin, Orthosiphon Stamineus Extract, Pyrus Malus (Apple) Fruit Extract.